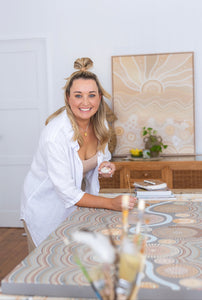 Here is your chance to have your very own custom painting created by Daisy. Take advantage of this extremely rare opportunity and secure your space for 2024!
When you commission a painting by Daisy, you receive an intuitively channelled, carefully designed, and visioned original artwork.
Daisy takes time to discuss the vision, meaning, story and essence behind the painting with you before commencing the project. You will discuss the piece's colours, size and theme, and then Daisy will paint your piece for you.
This $2000 payment acts as a security deposit and goes towards your total artwork cost.
The artwork size requirement for this spot is 80x80cm (minimum) and 150x120cm (maximum).
Artwork Prices (includes framing):
80x80cm - $4000
100x80cm - $5000
100x100cm - $5500
120x90cm - $6000
120x120cm - $7000
150x120cm - $7500
The remaining balance is payable upon completion of your artwork. Daisy will contact you via email and confirm artwork details including size, colours, theme, cost and schedule for your artwork during 2024, based on the estimated amount of time needed to complete your artwork. Shipping costs are additional and based on your location. This can be quoted once the size is confirmed.

*Please note that these commission spaces and prices are approved for individual use only, not commercial/organisational use.