Daisy's Story
Custom content
DAISY'S STORY
Daisy Hill is a modern, contemporary Aboriginal artist living on Yugambeh Country (Gold Coast).
She is a wife and mother of two sharing her connections to her ancestors through her artworks. Daisy paints intuitively and describes her painting process as deeply spiritual.
Daisy feels an overwhelming connectedness to her thoughts, feelings and spirit when she paints. She has a passion for storytelling and her works are inspired by her own life experiences, growing up in the hinterland and by the ocean.
"It is a way for me to feel connected to the Motherland - the trees, the water, the sand, the sun, the earth and the animals. It's a way for me to convey the beauty I see in all things. A way for me to express my gratitude and to acknowledge the Country I am walking, living and breathing. I am so grateful for the people who invest in my art because it resonates with them," says Daisy.
She is a proud descendant of the Muruwari people and celebrates her Aboriginal heritage with the world through her paintings. Daisy's art style can be described as intuitive and contemporary. She paints in her own unique style, often in a soft, earthy colour palette, using a combination of Aboriginal language symbols along with her own originals designs. Daisy's artworks are her own interpretations and she does not paint Dreaming stories she is not a Custodian of.
DAISY'S UNIQUE CREATION PROCESS
Daisy's freehand designs and meticulously detailed artworks can take up to 50+ hours to complete.
Her intricate dot paintings are often inspired and influenced by her fascination with the sun, the water and the sand.
Daisy takes pride in writing her own meanings for each artwork she paints and explains what each piece represents as a story.
For commissioned pieces, Daisy takes time to understand her client's tastes, aesthetic preferences, colour preferences and interests to create a piece that's completely personal, unique and meaningful to them.
Each artwork includes a card that Daisy uses to wipe her dotting stick during the creation process, with the meaning and story behind the art piece on it. Daisy also includes a hand painted seed pod from the Leopard tree - a special connection to Country for the client to keep.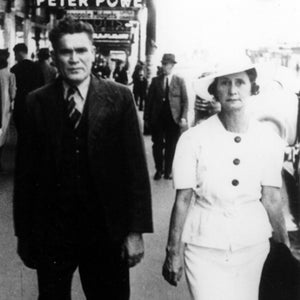 DAISY'S FAMILY HISTORY
Daisy's great-grandfather, William 'Deucem' Smith was born of the Muruwari Aboriginal tribe in Tinnunburra (Muruwari Nation), New South Wales, Australia in 1896. Rated as one of the greatest sheep shearers in the world, he eclipsed records and was regarded as more than a champion - a phenomenon. In April 2005, Deucem was inducted into the Australian Shearer's Hall of Fame in Hay, NSW. The Hall of Fame honours shearers with exceptional skill, character and contribution to the shearing industry. Nine shearers have been inducted into the hall of fame, Deucem so far being the sole Aboriginal. Daisy's great grandmother, also Daisy (whom she was named after), migrated to Australia from London, England and married Deucem. Daisy and Deucem went on to have five children: Bill, Valerie, Shirley, Larry and Gordon. All of his boys became shearers, taught by their father. Valerie was Daisy's Grandmother; her son Christopher was Daisy's father (both deceased).